Kabab Koubideh (Ground Beef Kebab)
Kabab Koubideh is the queen of all kebabs in Iran and one of the most delicious Persian foods. The long strips of ground beef grilled over a fire sit next to grilled tomato to create a festival of flavors with saffron steamed rice sprinkled with sumac. It is mainly served with a small cube of butter, raw onion, and flatbread and usually accompanied by Doogh (aka Ayran or yogurt drink). Everybody can guarantee that it satisfies your global taste buds.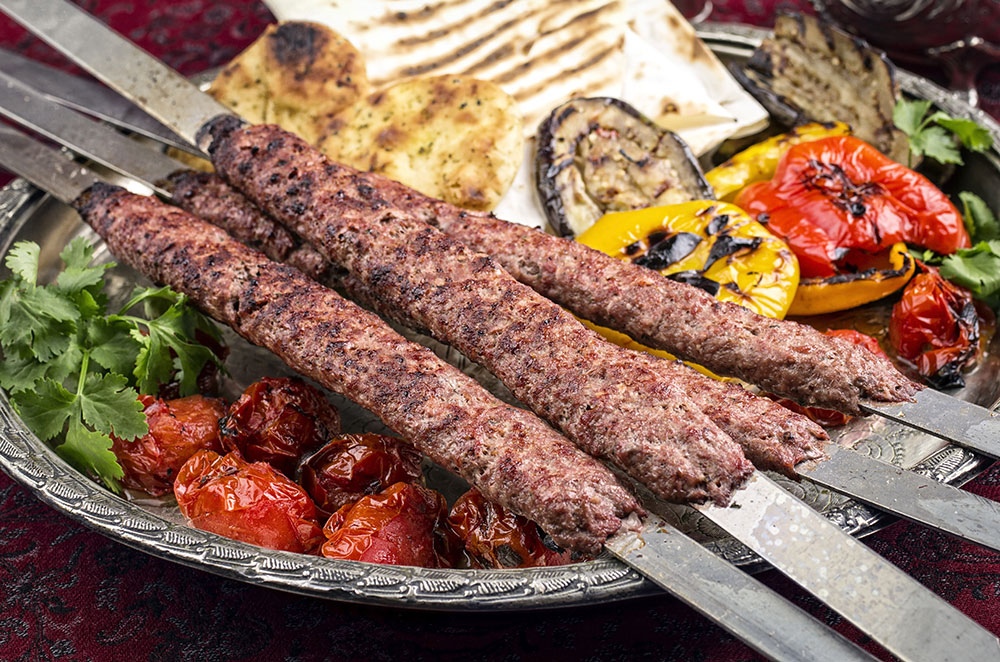 Joojeh Kabab
Joojeh Kabab is barbecued chicken with marinated by olive oil and saffron. Different parts of chicken used, such as tenders, wings, and thighs.
In the menus, you can find Joojeh Kabab with bone or boneless. The boneless one is usually with the chicken breast.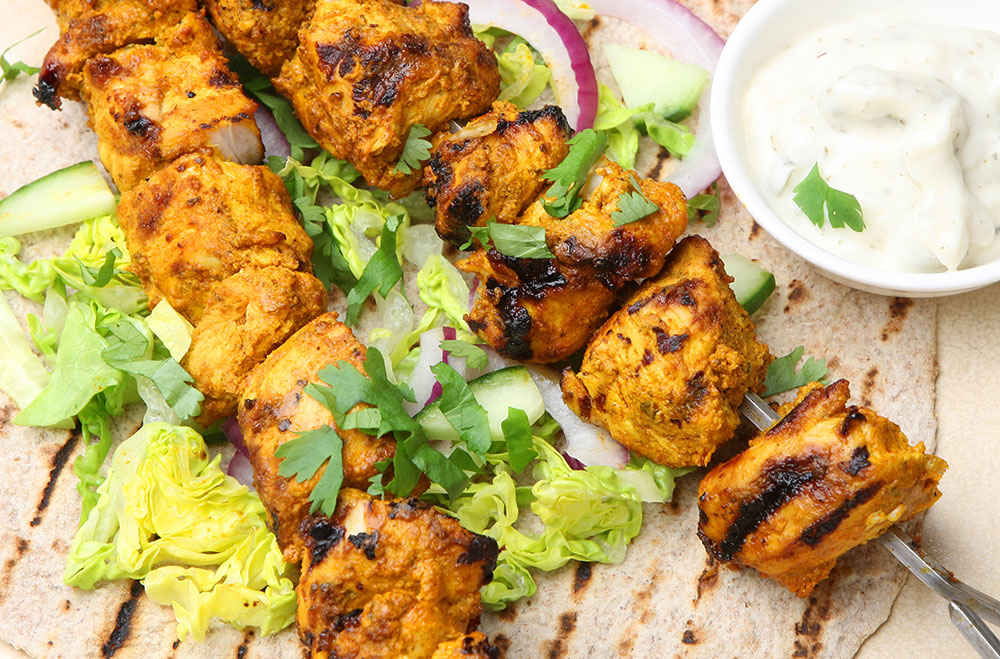 Barg Kabab
The main ingredient of Kabab-e Barg is fillets of beef tenderloin or lamb shank. The mast is marinated in onions, saffron, olive oil, and mild spices.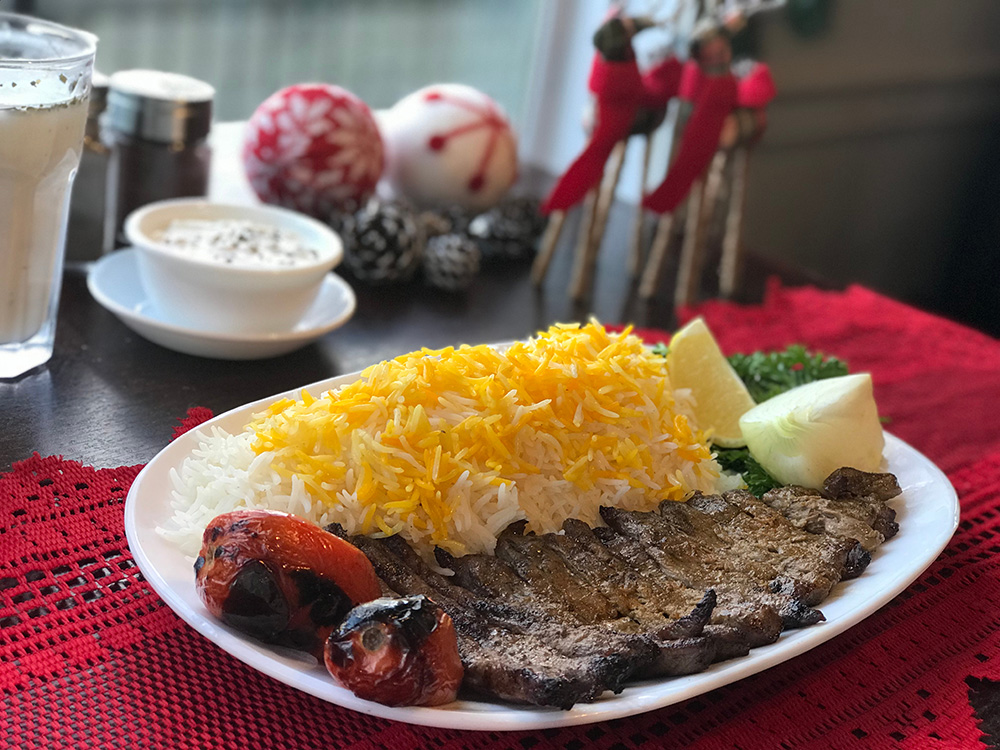 Shishlik
Shishlik with the same name is very popular in different countries of central Asia, eastern and southern Europe. However, the one you will find in Iranian restaurants is different from the ones that cooked in other countries. In Iran, it is cooked of large parts of lamb, served in five (and sometimes six) pieces per dish.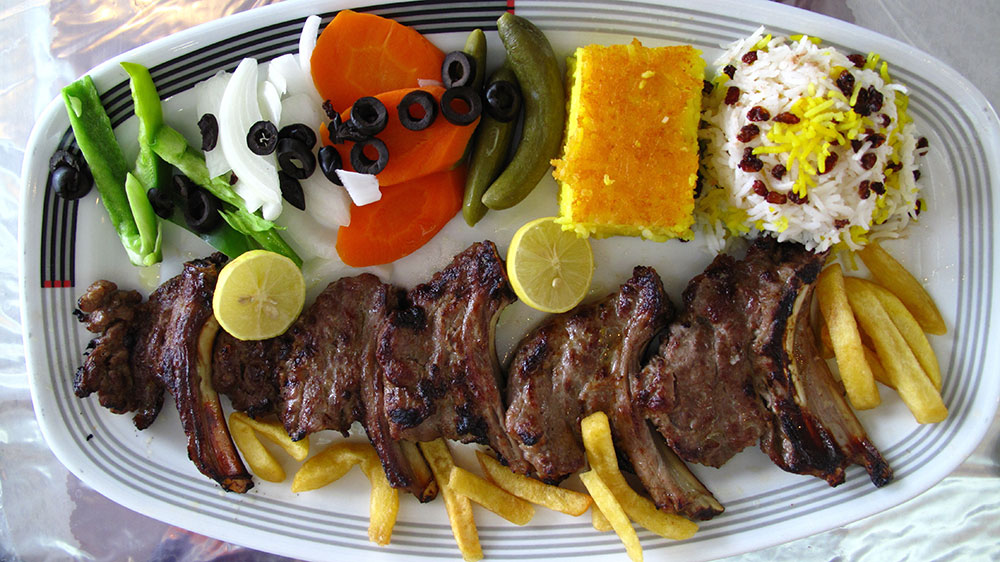 Chenjeh Kabab
Chenjeh is one of the most delicious Persian kebabs that is usually served in special ceremonies and occasions like wedding parties. This traditional Persian kebab is made by lamb or beef, through a skewer and cooked over charcoal flames. Making this kebab is not that difficult but it is not that easy too. It has some tips you need to be careful with. Chenjeh can be served with sangak bread or with rice, as you prefer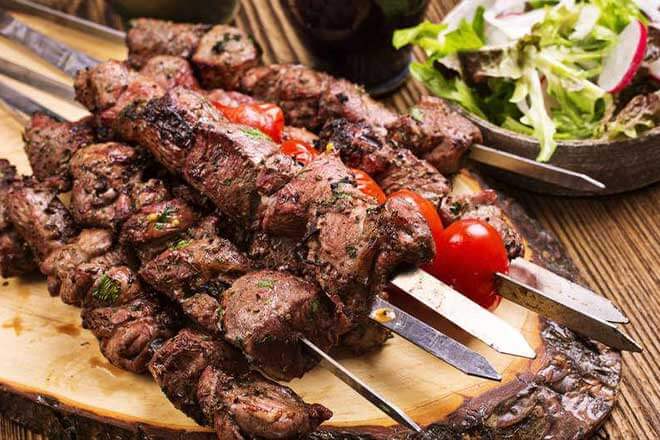 Kabab torsh
Kabab torsh is a traditional kebabs from Mazandaran and Gilan provinces in the north part of Iran. It is somehow the same as Kabab Barg which is cooked from beef but marinated in a mixture of crushed walnuts and garlic, pomegranate juice and chopped parsley. Because of the pomegranate juice, it has a sour taste.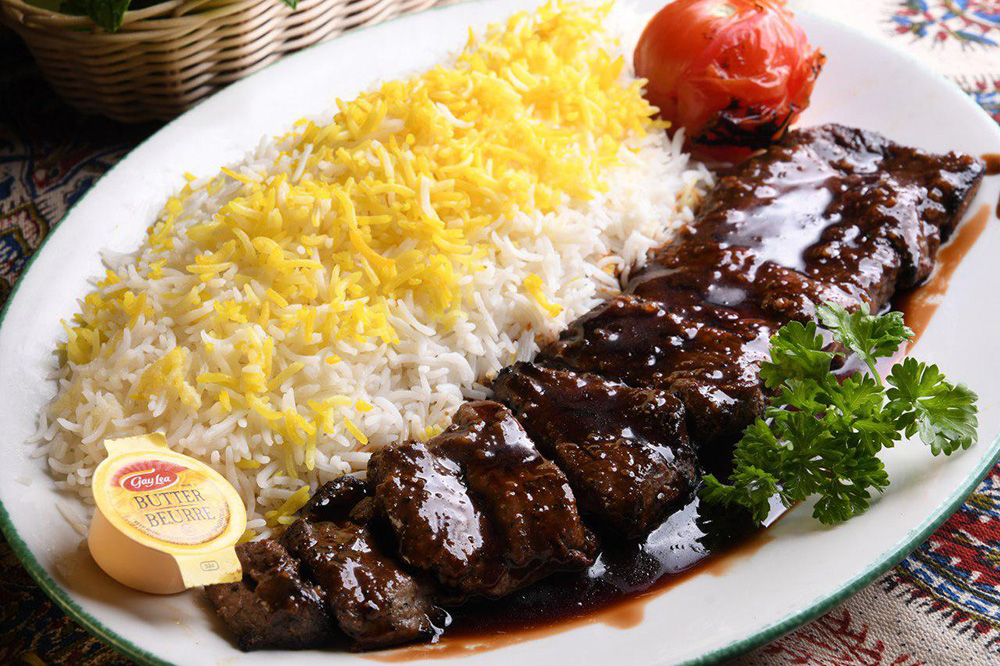 Qormeh Sabzi (Fresh Green Herb Stew)
Qormeh Sabzi is one of the most famous Persian stews which a true food heritage of Iran. It has been around for thousands of years in the ancient Persia. It is made from sautéed herbs, kidney beans, lamb chunks, and seasoned with dried limes (limo Amani). The dish is then served with Chelow (saffron steamed rice). It may be served over Tahdig. Deep green Qormeh Sabzi satisfies two Persian flavor fascinations: it's sour and full of herbs. If you are vegetarian, you can ask the restaurant to serve it without meat.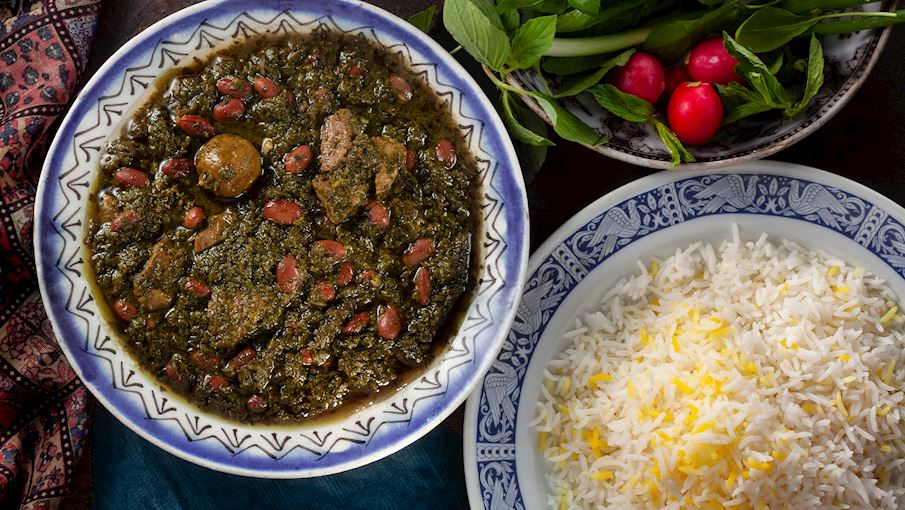 Khoresh Bademjan
Khoresh Bademjan or Bademjoon is a Persian Eggplant Stew with meltingly soft eggplants in a thick and tangy tomato based sauce, with pieces of meat to make it heartier.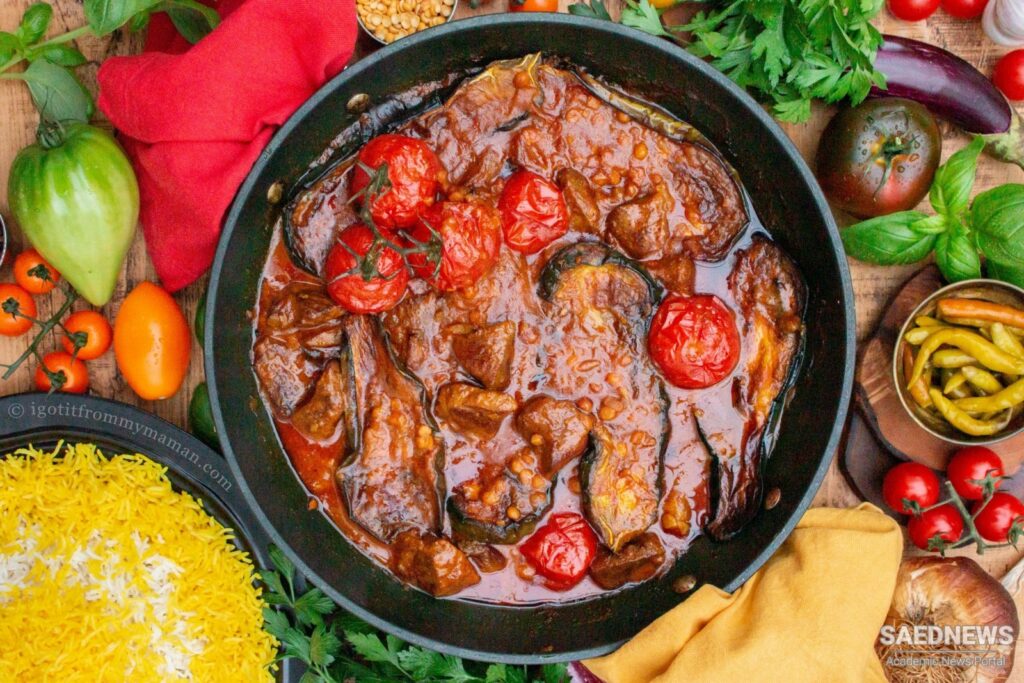 Abgoosht
Iran's most beloved and ubiquitous peasant dish, abgoosht (or "meat water") is made with inexpensive, bony cuts of meat, which take a back seat to the broth and the sheer ceremony involved in serving it all. Once the stew is cooked, it is divided into two parts: The meat, potatoes and beans are pulled from the stock and mashed into a meat paste, goosht kubideh. Simple to prepare, the dish turns into an occasion for a gathering, as the broth and meat paste are served with piles of warm flatbread, pickles and fresh herbs, palate cleansers that offset the richness of the dish.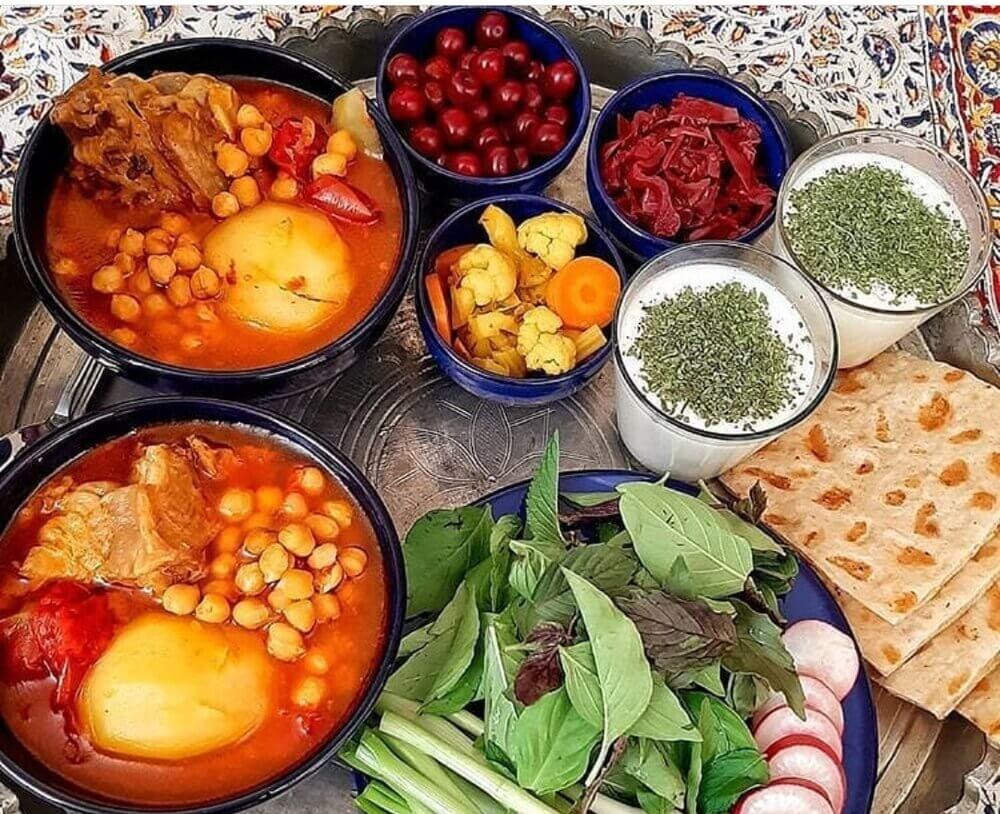 Tah Chin-e Morgh (Golden Crusted Saffron Rice Cake)
Tahchin is literally translated as "tah" meaning 'bottom' and "chin" meaning 'to layer'. Tahchin is a gorgeous Persian rice dish, often made of rice, yogurt, saffron, egg, and entire baby lamb or chicken fillets. Some non-Iranian visitors have given it the name of "rice lasagna". It is nothing like lasagna but when you slice the Tahchin, the layers of rice and meat have given it a lasagna look.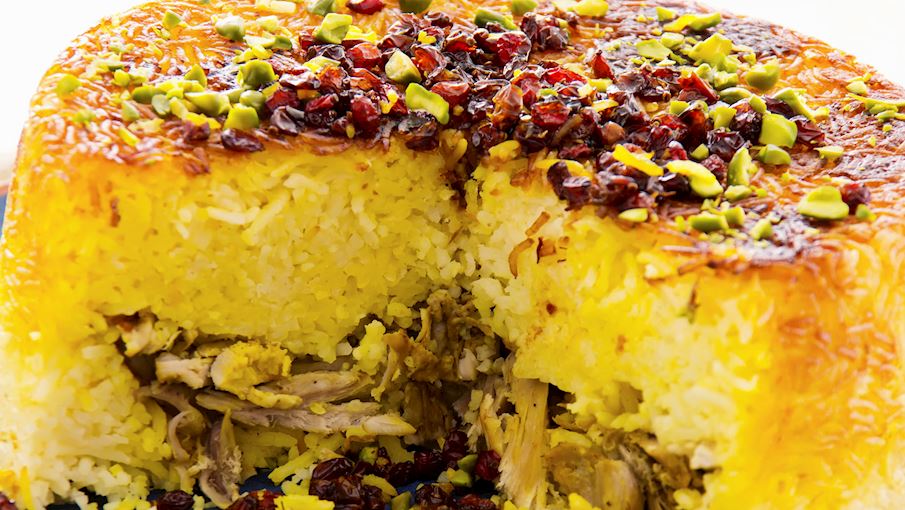 Khoresh-e Qeimeh (Yellow Split Peas Stew)
Khoresh-e Qeimeh is another delicious Persian classic dish, made of lamb, tomatoes, yellow split peas, and dried lime. If you travel to Iran during Muhharam, you'll definitely find Khoresh-e Qeimeh served on a large communal scale for the religious ceremonies of Tasua and Ashura.
There are two styles of Qeimeh stew: the classic Qeimeh Sibzamini which is qeimeh topped with crispy potato fries, and Qeimeh Bademjan which Qeimeh stew cooked with pan-fried long-cut eggplants. Like many other stews in Iran, the dish is served with Chelow (saffron steamed rice) or over Tahdig.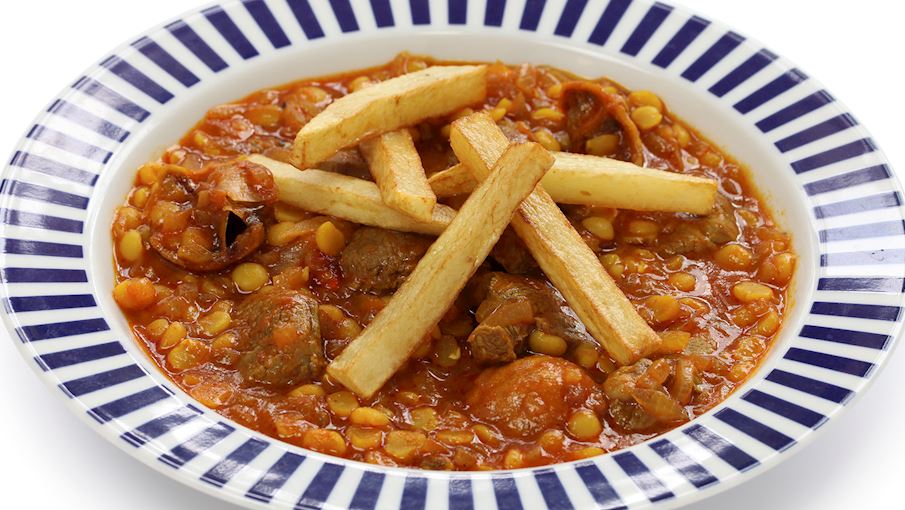 Zereshk Polo Ba Morgh
Zereshk Polo Ba Morgh is one of the signature dishes of Persian cuisine. Zereshk Polo Ba Morgh is made with rice, barberry, saffron and chicken. This simple yet delicious food is loved by all Iranians.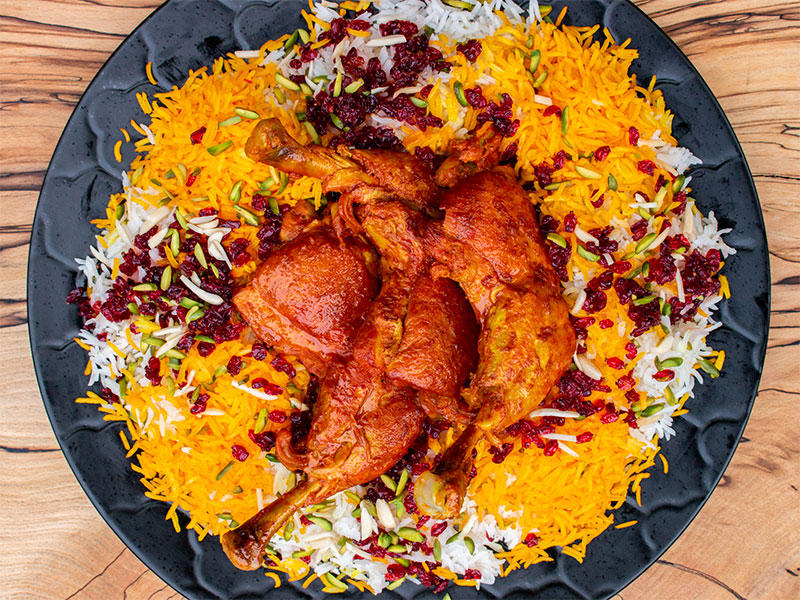 Kalam Polo Shirazi
Fars province is one of the historical provinces of Iran, which is best-known for the unique civilization and extraordinary monuments. Shiraz has been the capital of Fars from past to present and therefore, it embraces many traditional, local and delicious foods reflecting a part of climate, culture, custom and the lifestyle of the people in this region. Kalam polo is one of these Iranian traditional foods cooked in most Iranian families but with a completely different taste in Fars province from the other regions of the country. Its smell and taste is exceptionally pleasant because of having different local vegetables. Spending so much time and being patience is the necessary condition for cooking Kalam Polo. Rice, kohlrabi, vegetables (tarragon, dill, basil and leek), minced meat and chickpea flour are the ingredients of this food. Meatball (minced meat with chickpea flour and onion fried in the form of tiny balls), chopped and cooked kohlrabi are usually added to Polo. This original and delicious food is usually served with yogurt and vegetables.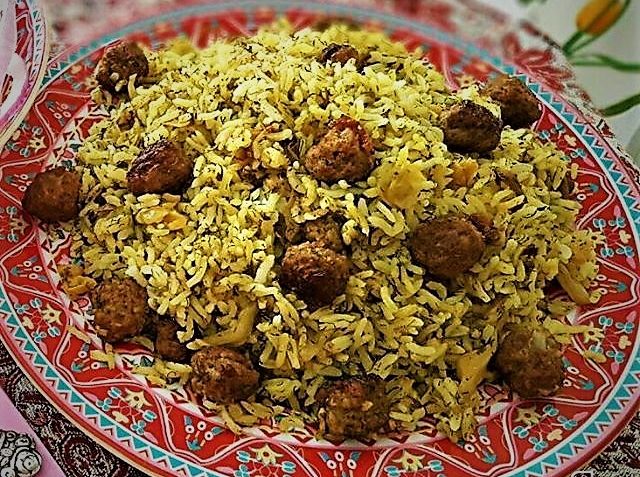 Baghali polo
Baghali polo is the famous Persian dill rice with fava beans. It is a traditional favorite and a definite item on Persian restaurant menus. Baghali means fava beans or broad beans in Persian (Farsi). When these beans are not easily available, many recipes substitute the more easily obtainable lima beans.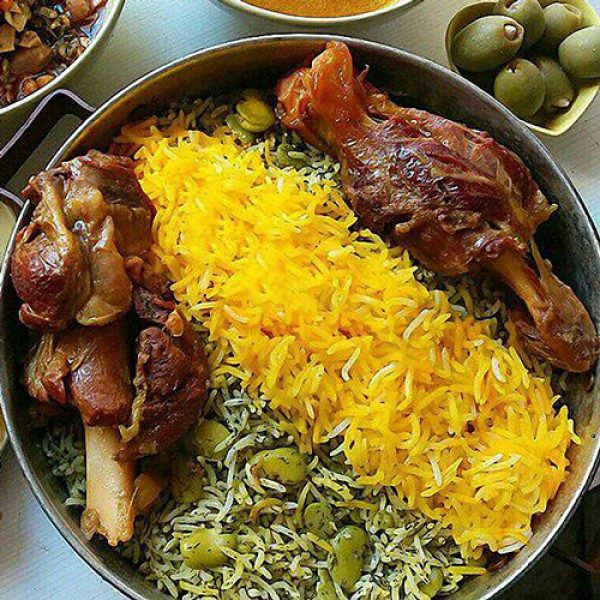 Baghali Ghatogh
Baghali Ghatogh is a famous dish from north Iran. It's one of the few vegetarian dishes of Persian cuisine which taste is a bit particular because of the generous usage of dill. It tastes great with kateh rice and pickled garlic!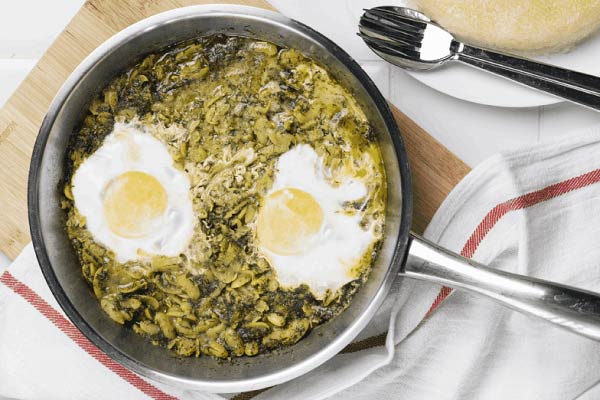 Havari
This food also called Mahi Polow, is a type of local cooked rice that is mostly cooked in Bandar Abbas and Qeshm. Havariis one of Qeshm's parliamentary foods that is mostly served at the wedding. In most Qeshm dishes, raw material are prepared in advance, which add to the soaked rice as a sauce. Prepared Polow is a combination of several ingredients and spices. "Havari" is a blend of fish, vegetables and rice that is one of the delicacies of the province. Havari is one of those foods that has a good Southern flavor with spicy fish.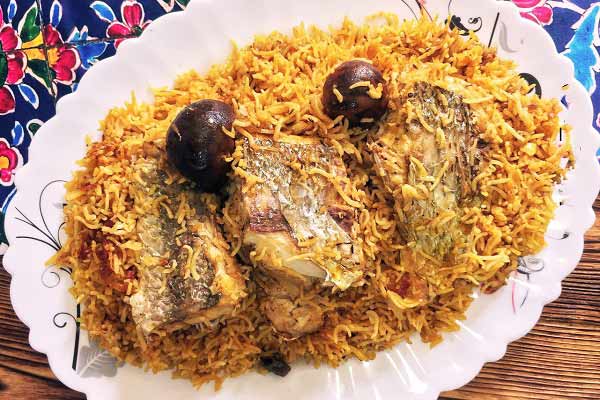 Sabzi Polo Mahi
Sabzi Polo Mahi is Persian Herbed Rice with Fish. It is a traditional recipe for Nowruz, the Persian spiritual New Year; celebrated not just in Iran, but in many other central Asian countries.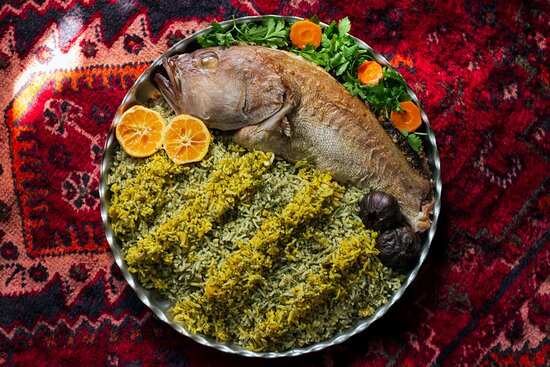 Kale Pache (Head and Legs of Sheep)
Kale Pache is one of the Iranian traditional food not only served in some special restaurants called "Kale Pazi" or "Tabbakhi", but also it is a popular food among families. This food cooks in the Middle East and southern Caucasus in the same way as Iran. "Kale Pache" is the name of this food in both Iran and Turkey; however, it is called "Pache" in Arabian countries and "Khāsh" in Armenia, Azerbaijan and Georgia. A unit of Kale Pache includes one head of sheep and different parts of his body, such as meat, tongue, brain, Banā Goosh (the meat in front of the ear), eye, face and four legs of sheep. Kale Pache is a kind of food which needs a long time to cook and should be baked over a gentle heat mixed with onion, peas, spice (salt, turmeric and pepper).
12 hours after its cooking and cooling time, its oil and bones should be completely separated from the edible parts and the food is prepared to serve. The water of this food is usually eaten as an appetizer. Serving orange and Lemon along with this food is not only suggested for adding a unique flavor, but also because of Antioxidant. In addition to normal times, Kale Pache is cooked in different feasts, happy times or mourning ceremonies after sacrificing the sheep. Eating this food in summer and tropical regions is harmful for human health and its serving is mostly suggested during cold seasons. It is better Kale Pache to be eaten as breakfast or lunch and it is not an appropriate meal for dinner. Also, this food is not suggested for those who are sick because it is known as a cholesterol-rich and high-fat food, although it is filled with protein and vitamin.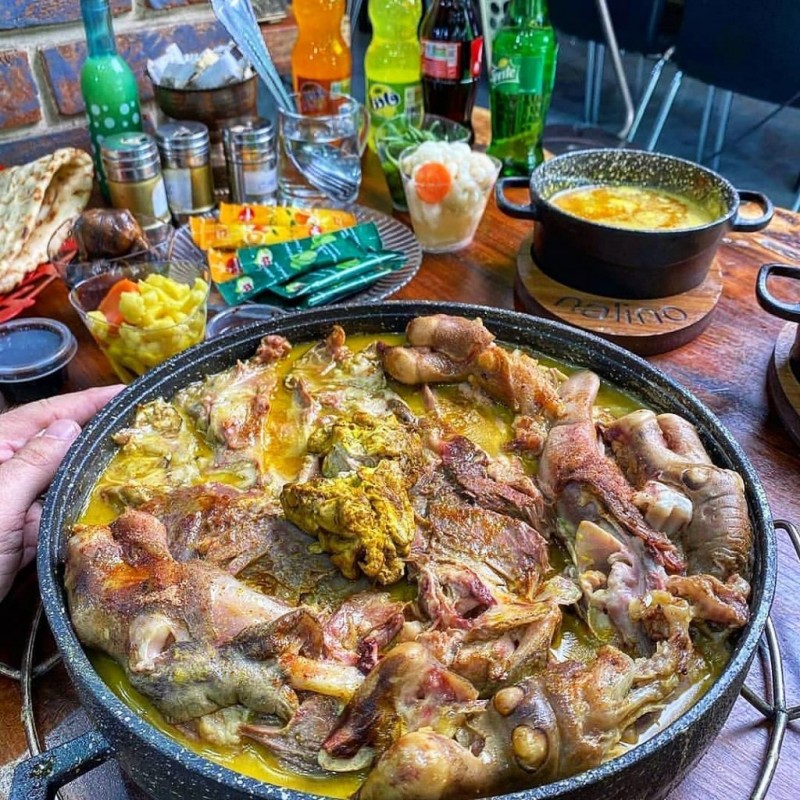 Kufteh Tabrizi
Eating habits in East Azerbaijan show the culture, attitude and the people's income level in the northwest region of Iran. Kufteh Tabrizi is one of the most famous local and traditional foods in Tabriz. Kufteh Tabrizi is well-known and highly popular not only in Azerbaijan province, but also in all around of Iran for its taste, smell, food properties and cooking method. In fact, Kufteh is a food with different cooking methods in Iran and Middle East. Kufteh is cooked in most of Iranian families with slightly different methods and ingredients. This food is an expensive, delicious and heavy cuisine including minced meat, rice, split peas, walnuts, egg, onion, different types of aromatic vegetables (coriander, tarragon, parsley, mint and dill), oil, salt, pepper, turmeric, tomato paste and saffron as the spice. The meat of Kufteh was traditionally smashed in a stone mortar by a wooden pestle which has been today replaced by minced meat because the traditional process was extremely difficult. The ingredients of Kufteh are prepared as a round mixture (usually as large as a fist) with a boiled egg, walnuts or dried plum at the center which is decorated by fried onion and barberry. Kufteh Tabrizi is served with Sangak bread, vegetables, yogurt and some local spices creating a delicious taste.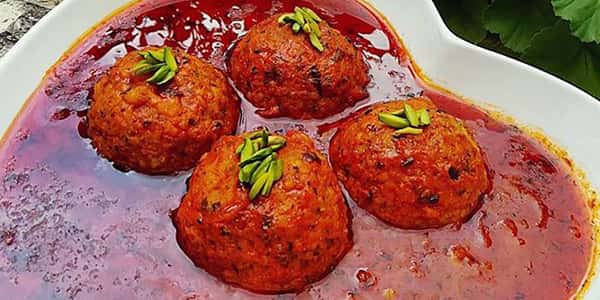 Ghalieh Mahi
The local and traditional foods of southern regions have a crucial position in Iranian food culture and many of these foods constitute the routine meal of them. There are many different foods relevant to the warm and humid conditions in the southern regions of Iran. Living in the unbearable warm and highly humid areas needs particular healthy meals to compensate the harmful consequences of the weather in which fish is a highly beneficial foodstuff. The warm water in the South is a good source of providing fresh fishes for cooking delicious foods. Ghalie Mahi is one of the most famous traditional yummy and highly nutrient food the which is greatly popular in the South; It is cooked by the same method anywhere in Iran .
In fact, Ghalieh Mahi is a kind of spicy Khoresh in which fish has an important role. In order to prepare a good Ghalieh, we can use mackerel or any other fishes in the southern region of Iran with little bones like Thorny cheek, Tigertooth croaker, Stripped piggy , Threadfin, Black Pomfret and even sometimes shrimp along with vegetables such as, coriander and fenugreek, onion, pepper, turmeric, garlic, oil and tomato paste. Tamarind is also added in order to make a sour taste. Ghalieh Mahi is usually served with rice; however, you can eat with some bread. The Ghalieh Mahi delicious taste, aromatic smell and good appearance arise from the vegetable and garlic.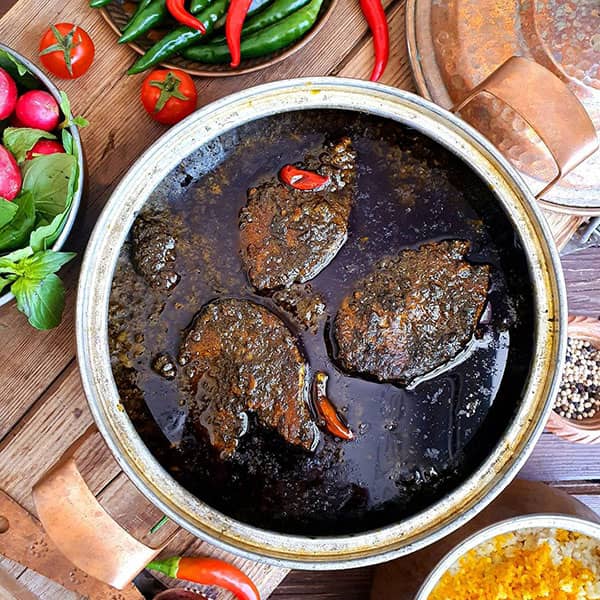 Ghalieh Meygoo
Ghalieh Meygoo is a traditional dish from Chuzestan in southern Persia on the Persian Gulf and a kind of curry with shrimps, tamarind, tomato paste, fresh cilantro, fenugreek leaves, garlic and lots of aromatic spices. Sometimes persian cooks add also curry and chili powder to the dish.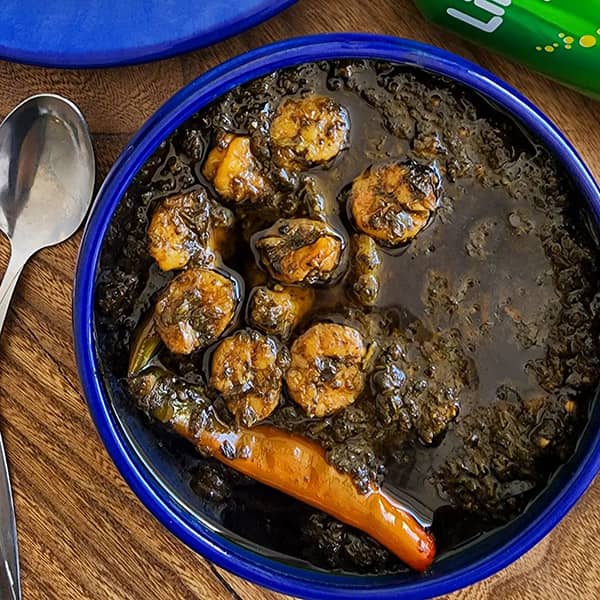 Qeime Nesar
Qeime Nesar is one of the most popular foods of Qazvin province, which has been spread in all provinces of Iran and cooked as an aromatic and delicious food for official events, happiness parties, wedding parties, large parties and Eids. Qeime Nesar is considered to be an expensive and luxury food cooked basically with the ingredients such as: Rice, lamb meat, onion, saffron, barberry, almond slice, pistachio slice, orange slice, turmeric, cardamom, salt, sugar, tomato paste and some famous aromatic and delicious spices special to Qeime Nesar in Qazvin. Sometimes meat and rice are stewed simultaneously and sometimes rice is prepared separately, in combination with a little saffron and in the next step, the layered meat is placed in the middle of rice; the above mentioned slices can be used for decorating the food. This food is usually served with vegetable and yogurt.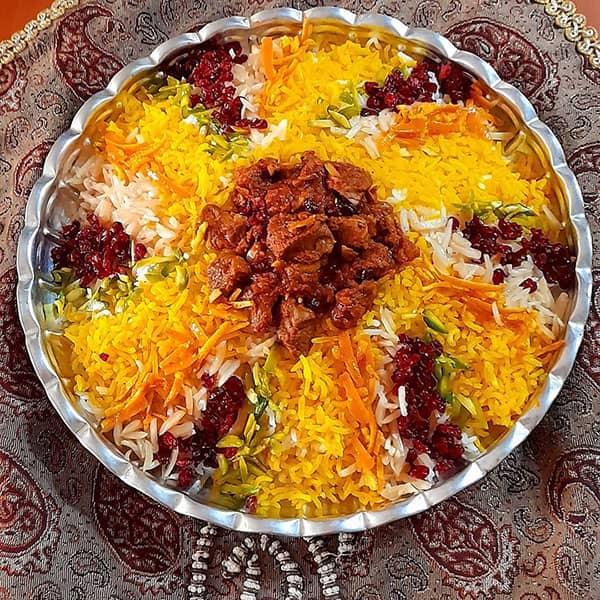 Dami Gojeh Farangi
"Dami" means "steamed rice", and "gojeh farangi" means "tomatoes" so the whole phrase means steamed rice and tomatoes. Dami gojeh farangi is a classic recipe that is very common to Iranian households. It's simple, yet delicious and is considered a complete meal on its own.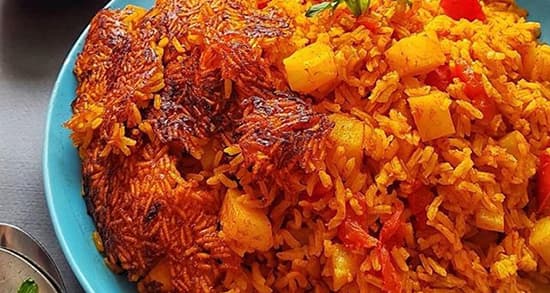 Morasa polo
Morasa polo is a traditional Persian rice dish. This jewelled rice dish (morasa means jewels) is prepared with basmati rice, butter, olive oil, tahdig (the crunchy golden bottom rice layer), liquid saffron, dried barberries, orange peel, almonds, pistachios, carrots, onions, sugar, and raisins.
Traditionally, each ingreident is sautéed separately and caramelized with sugar. When served, morasa polo is placed on a serving platter, then garnished with pomegranate seeds and drizzled with melted butter or ghee and rose water. The dish is especially popular at Persian festivals such as Nowruz, the Persian New Year, and weddings.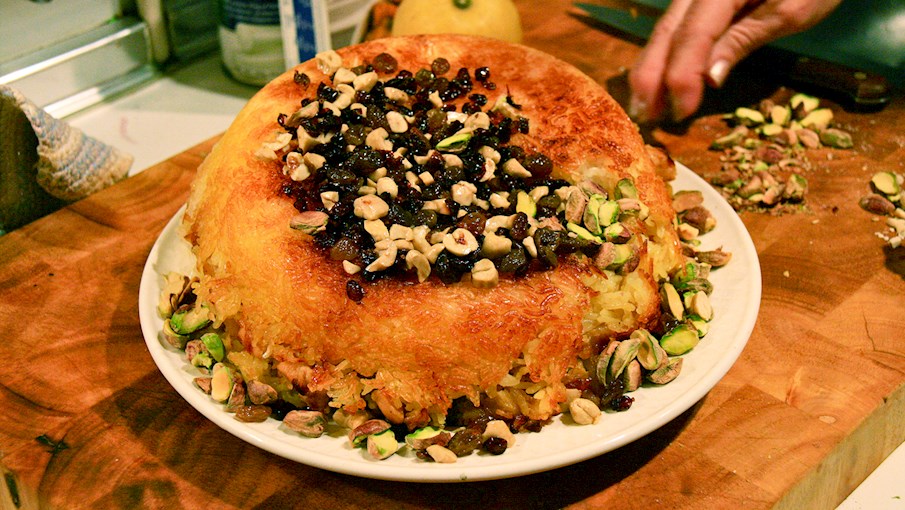 Dolmeh Barg-e Mo
Dolmeh is a common dish in many Eastern-Mediterranean countries. This food can be made with different ingredients and recipes depending on the region that it comes from. Dolmeh Barg-e Mo is a version of this food made with grape leaves, rice, yellow split peas, and meat.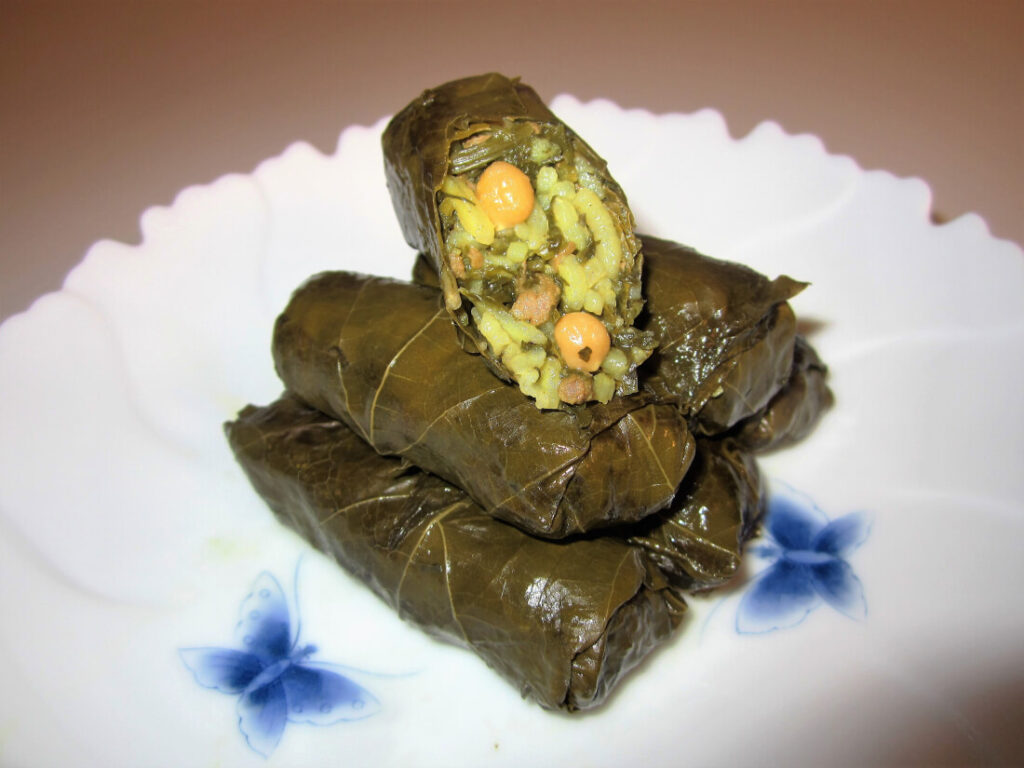 Kotlet
Kotlet is a Persian dish made with ground beef and lamb mixed with spices and eggs and fried in a pan. It originates from the word "cutlet" which means a thin slice of meat or a croquette or cutlet-shaped patty made with ground meat. Kotlet is a delicious family dinner that also makes great leftovers and is perfect for school lunch.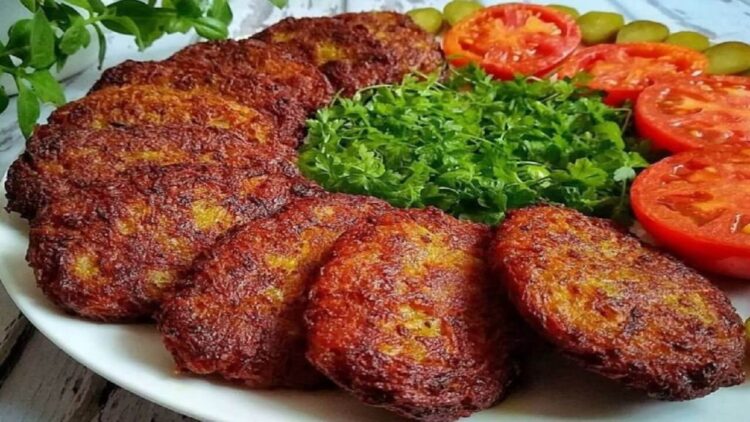 Kookoo Sabzi
Kookoo Sabzi is one of the most popular Persian dishes that is cooked with various methods. The base of this recipe is special herbs(Sabzi kookoo) that are chopped and frozen. A delicious combination of fragrant herbs and eggs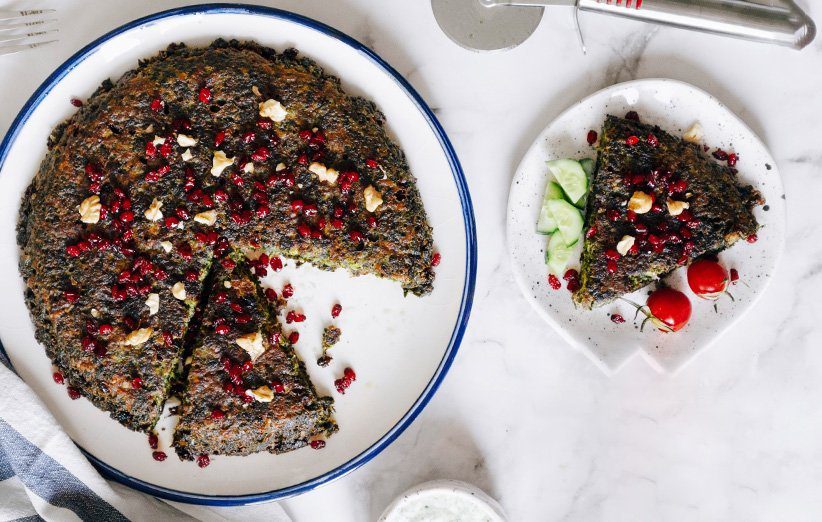 Khoresht Mast
Khoresht Mast (literally meaning "yogurt stew"), despite having the name khoresht in the title, is a bright yellow, sweet dessert and mostly served as a side dish. You can find Khoresht Mast in most restaurants of Isfahan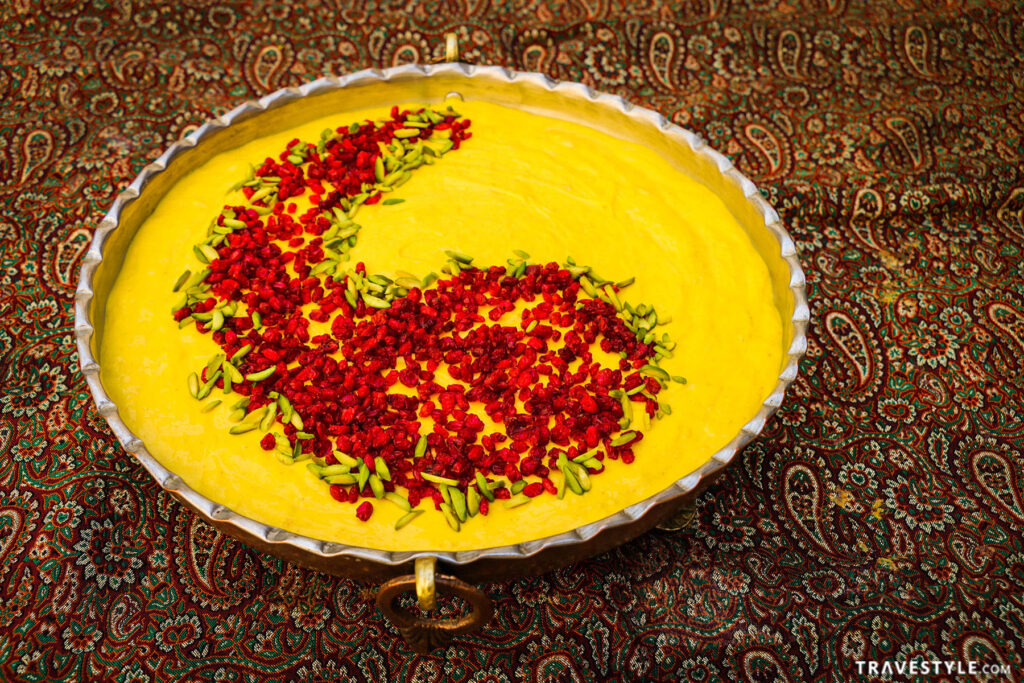 Halim Bademjan
Halim Bademjan (or Persian Eggplant and Lentil Dish) is a popular Persian dish made with eggplant, shredded meat (beef or lamb), lentil and whey, and garnished with fried mint, garlic and onion. Halim Bademjon is often served as a starter or as a main dish with a special Persian bread called Lavash, but you can serve it with pita bread or any kind of bread you like.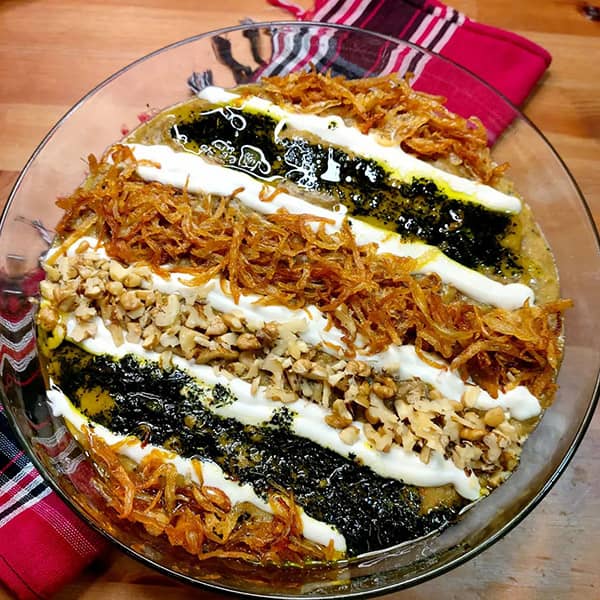 Kashke Bademjan
Kashke bademjan is a simple Persian eggplant dip that is made with a handful of ingredients. This easy and tasty vegetarian dip is full of amazing flavors and makes for a perfect appetizer served with some warm bread.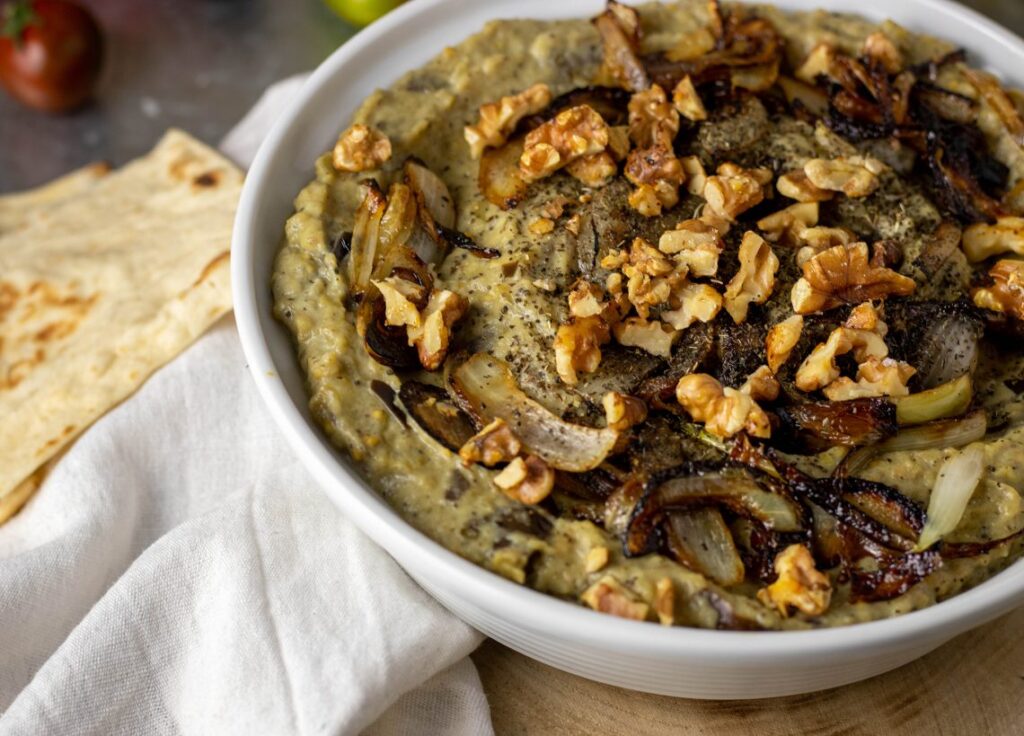 Mirza Ghassemi
Mirza ghassemi (میرزاقاسمی in Persian) is a popular Iranian appetizer prepared with roasted eggplants, which are usually cooked in a tandoor oven.
The eggplants are complemented with tomato, garlic, olive oil, salt, pepper and then completely joined with eggs. This dish is considered a casserole and is generally eaten served over white rice or accompanied with bread pieces for dipping. While it is very popular throughout Iran, and even in other countries, it gained its popularity in the northern region of the nation and in the Caspian Sea region, particularly in the province of Gilan.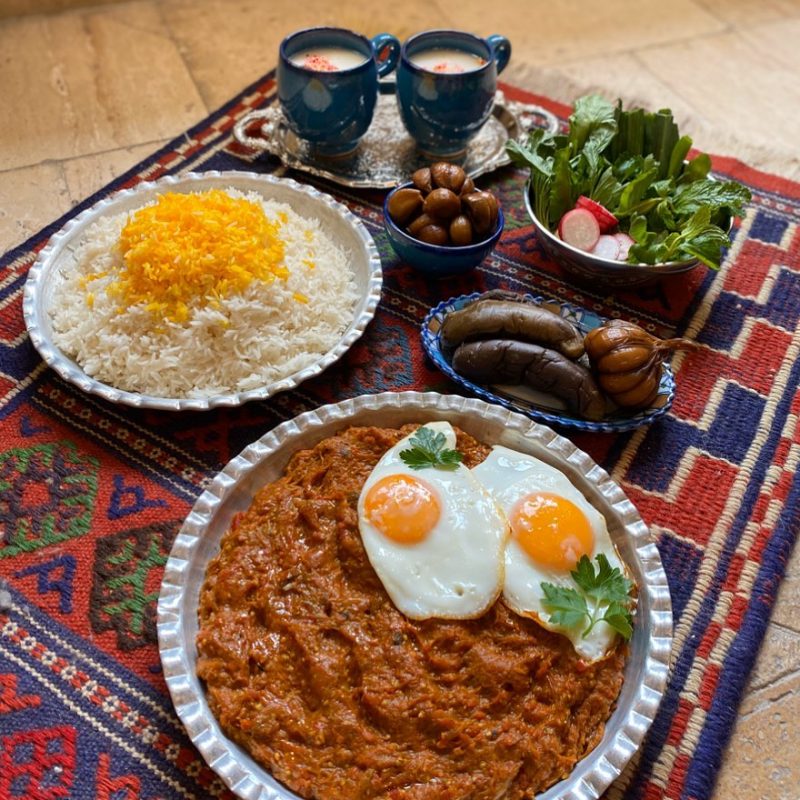 Yogurt soup
Yogurt soup is a test of patience and restraint. If you're easily distracted, skip it. If you can mind a pot, stirring, singularly-focused, for half an hour or perhaps longer, you'll be rewarded with a beautiful, herbed, Persian yogurt soup: Ashe Mast (yogurt soup).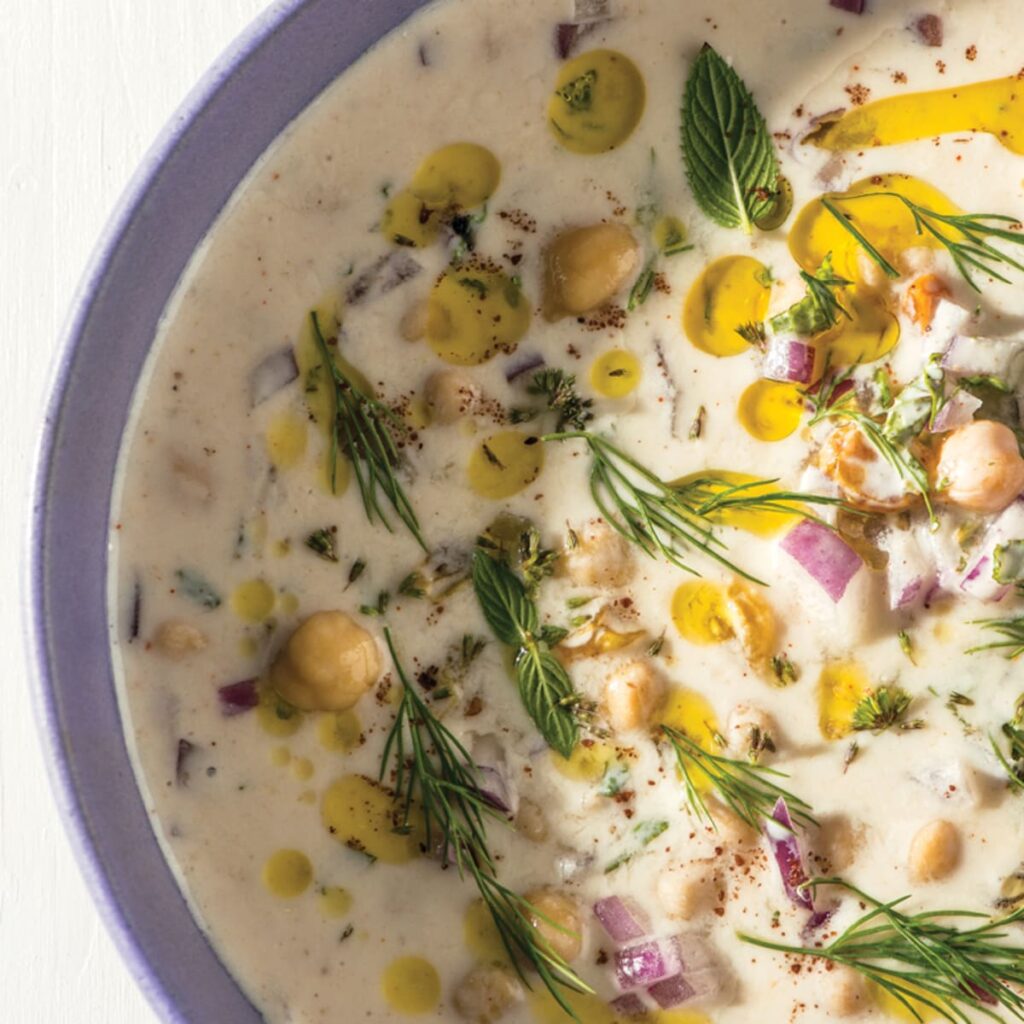 Ash-e Reshteh (Noodle and Bean Soup)
Aash-e Reshteh (Aash: pottage and Reshteh: noodles) is a richly textured soup. Since it has at least three of five-a-day nutritions (noodles, beans, herbs and leafy greens like spinach and beet leaves), it is known as a complete meal. In Iran it is traditionally served on Norooz, the Iranian New Year and on the third day after friends and relatives have gone away on a trip. It was believed that by eating noodles we can send the travelers luck as they follow the path of their journey. But it is such a delicious meal that you cannot wait for any occasions to cook it. You can have any time of the day, any time of the year!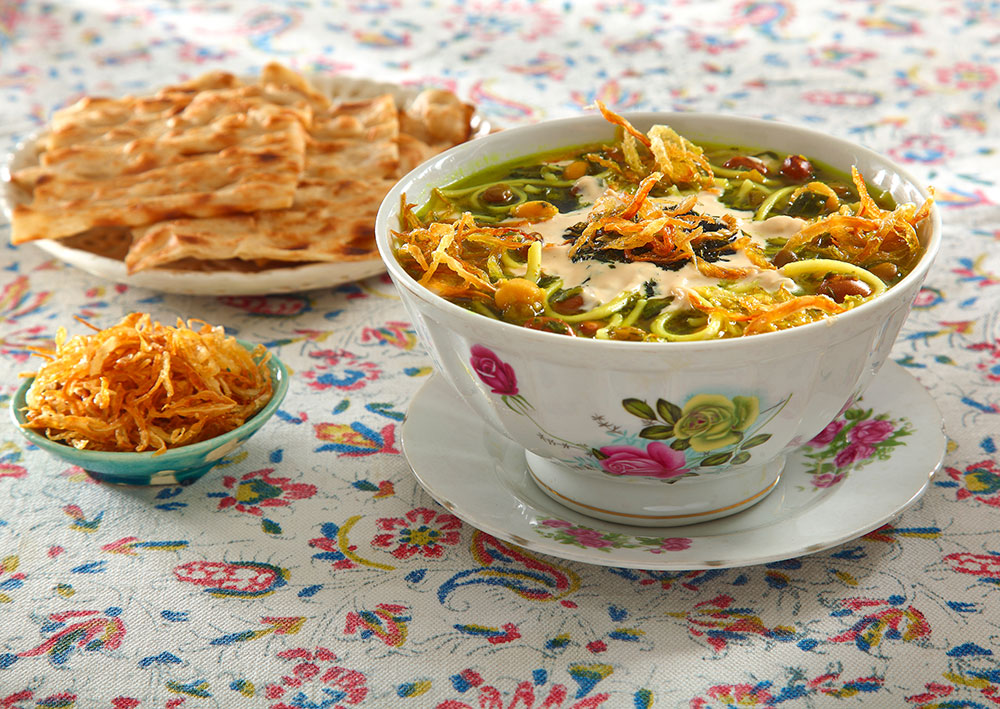 Salad Shirazi
Salad shirazi There is something extraordinarily special about this salad, which has great significance in Persian cuisine. The bright and refreshing flavors of tomato and cucumber are enhanced by a dressing of dried mint and unripe sour grape juice (Ab Ghooreh in Farsi). Its simplicity makes it relatively easy as a perfect companion to just about any meal.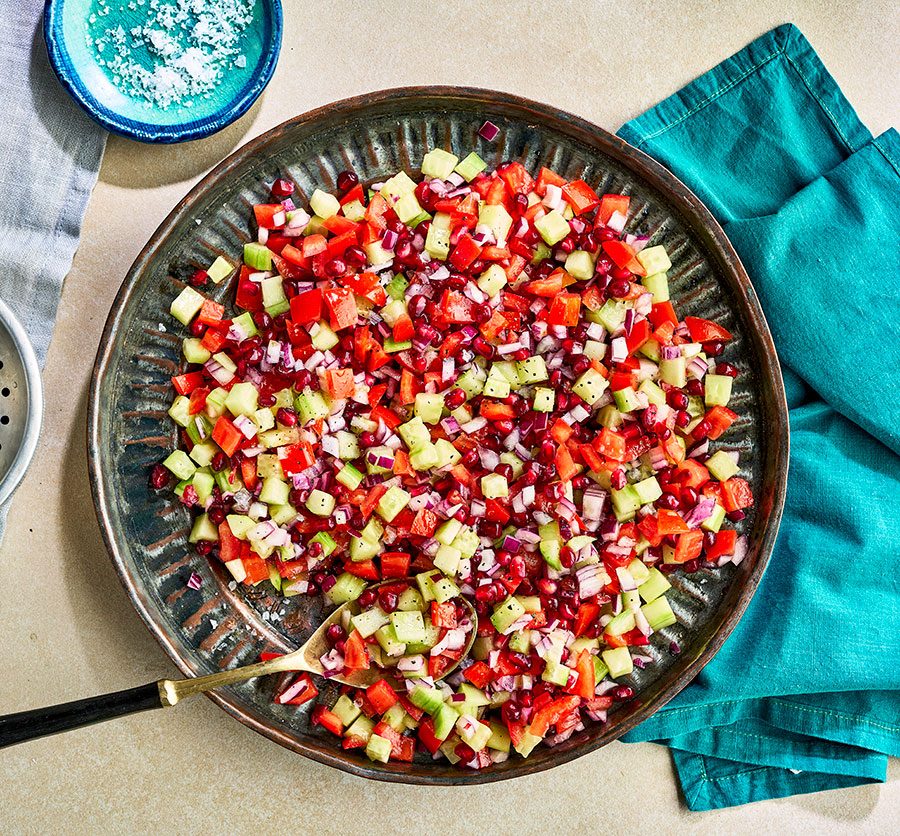 Salad Olivieh
Olivier salad, known as Persian Chicken salad, is a popular alteration of the Russian potato salad in Iran. The main recipe for this salad is slightly different than the original version, as it's made with chicken breasts. It's one of the most beloved Persian street food, that you can also find it as a delicious bite or side dish in Persian gatherings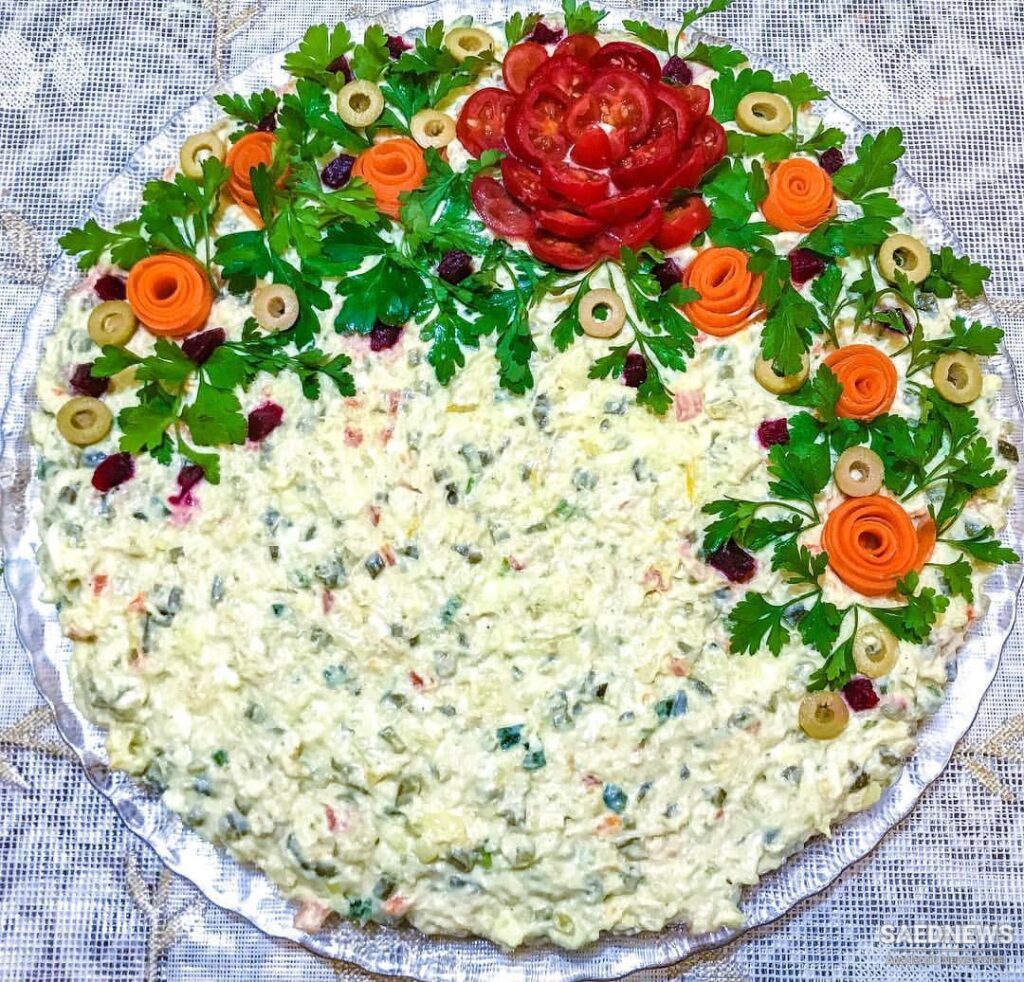 Shole Zard
Shole Zard is a Persian pudding. It is said to be originated from Kermanshah but it has found its way throughout the whole country. Nowadays Shole Zard is known and served in every city in Iran. This pudding is high on nutritional values. Because of the saffron, Shole Zard can be a mood and energy booster. Rice is also a good source of vitamins and fibers.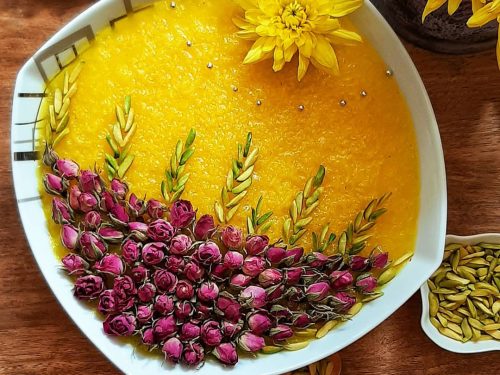 Balaleet
Balaleet is a traditional dish in the Gulf (the UAE, Kuwait, Bahrain, etc) that incorporates sweet and salty elements. Balaleet is usually eaten for breakfast. In Arabic, it's referred to as: بلاليط. It consists of two main parts, vermicelli noodles and an egg topping. The vermicelli noodles are sweetened and flavored with rose water, cardamom, turmeric and saffron.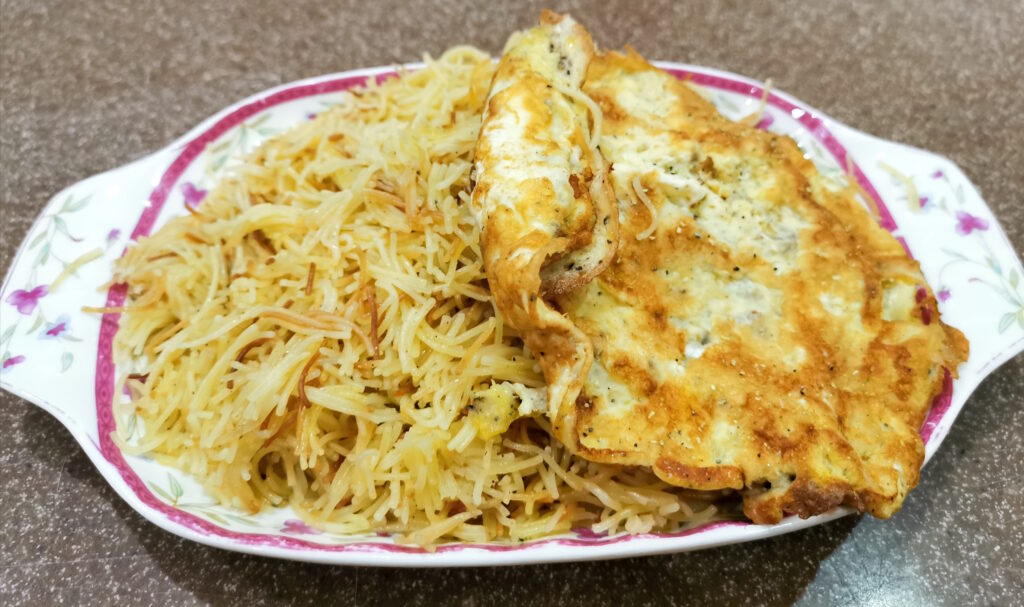 Ranginak
Hailing from Shiraz, this traditional Iranian dessert is prepared with toasted wheat flour and walnut-stuffed dates. Toasted flour, which is usually enriched with cinnamon, sugar, and cardamom, makes the bottom and the top layer of the dessert, while the center is filled with stuffed dates. Ranginak is prepared in round cake pans and usually comes topped with ground pistachios. The cake is traditionally served chilled, usually accompanied by freshly brewed tea.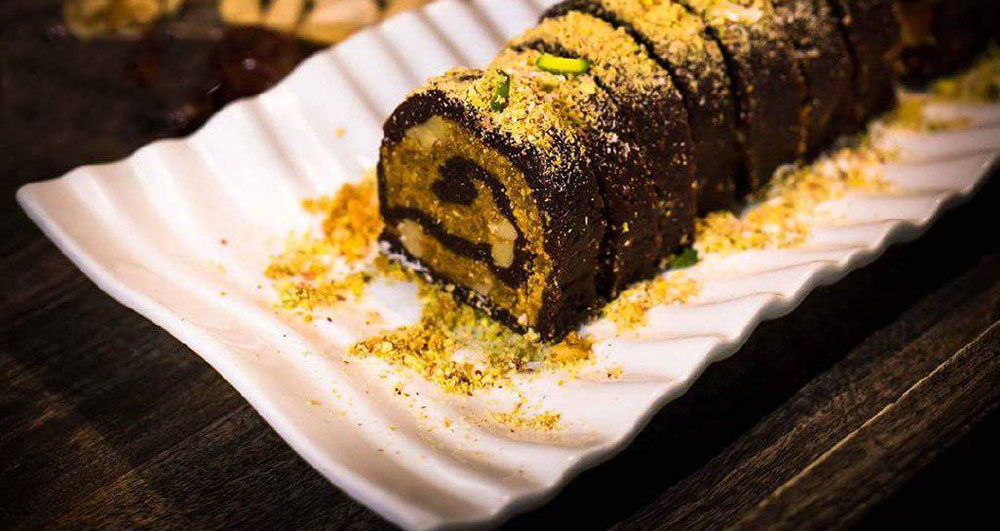 Hailing from Iranian Gilan province, this simple dish consists of a flavorful combination of pitted olives and pomegranate molasses. The additional ingredients include ground walnuts, garlic, and various fresh herbs such as cilantro or mint, as well as pomegranate seeds, and generous amounts of olive oil. Zeytoon parvardeh is usually served well chilled and is traditionally enjoyed as an appetizer or a snack that is accompanied by lavash bread.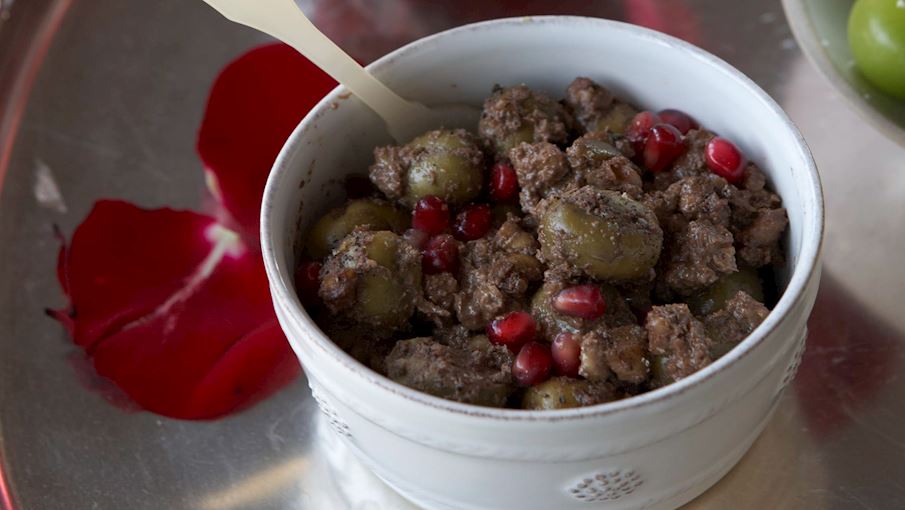 Mast o khiar
Mast o khiar is a simple and refreshing Iranian dip made with yogurt and diced cucumbers. In its original form, it is generously seasoned with mint, but it can be easily adapted with other ingredients such as garlic, walnuts, raisins, and various herbs and spices. Served chilled, mast o khiar is a staple side dish of every Iranian meal but also a quick and nutritious snack when accompanied by crispy flatbreads.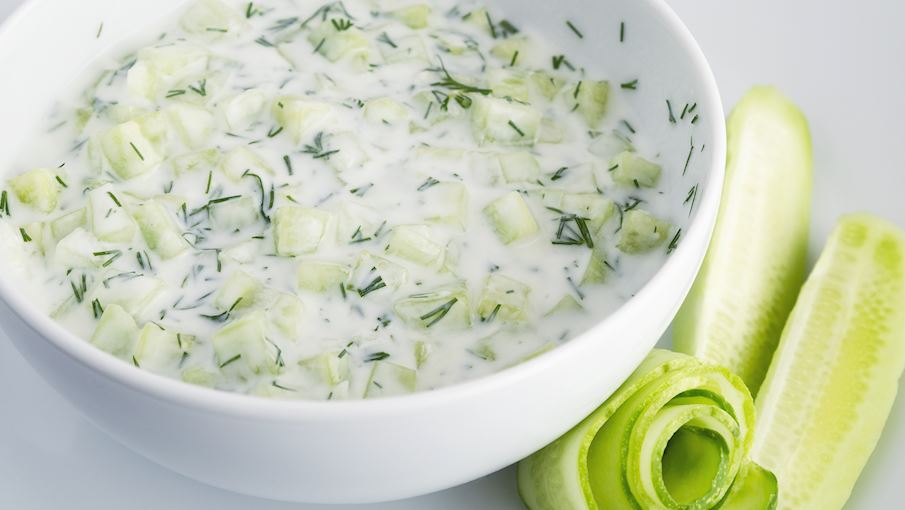 Sheermal bread
Sheermal is a traditional Iranian flatbread made with maida flour, milk, saffron, and yeast. It is characterized by its strong saffron flavor and yellow color. The bread is traditionally baked in a tandoor oven and served warm, preferably with soups or meat dishes such as kebabs and curries. The name sheermal means milk bread, referring to one of its key ingredients, imparting a slightly sweet flavor to the flatbread. For additional sweetness, some cooks like to add dried fruit into the dough. It is believed that sheermal has Persian roots, when numerous Persians traveled to India and Pakistan and learned the secrets of bread-making.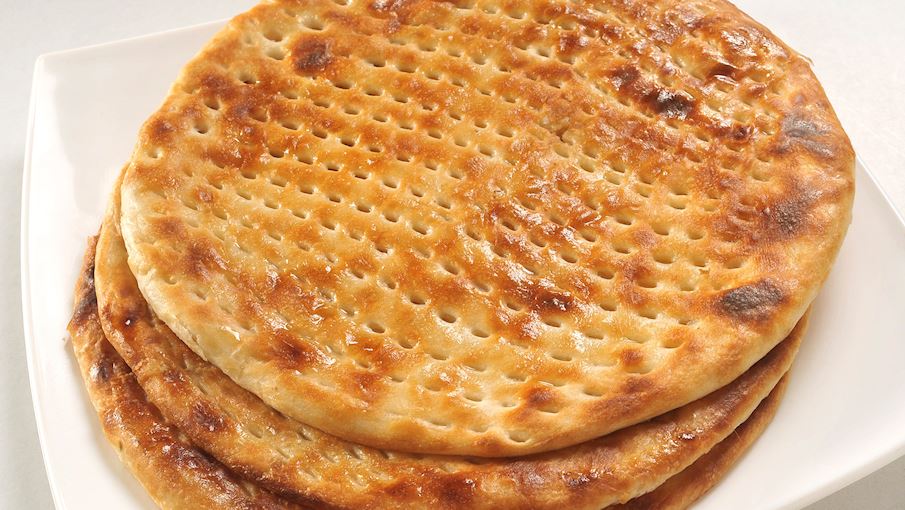 Barbari Bread
Nan-e barbari is an Iranian wheat-based, leavened flatbread. It is usually formed into a long oval shape that is traditionally brushed with roomal, a flour glaze which gives it a light golden crust, but keeps it light and airy on the inside.
Before it is baked in traditional tandoor ovens, the bread is usually sprinkled with poppy, nigella, or sesame seeds. The name barbari derives from the old disrespectful name used to refer to the Hazaras ethnic group. It is believed they were the ones who originally brought the tradition of preparing nan-e barbari to Tehran and other parts of Iran.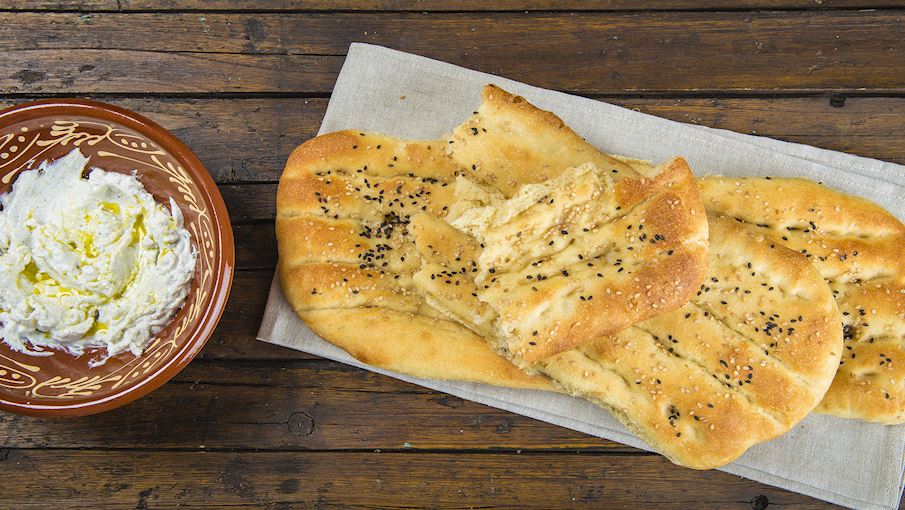 Taftoon bread
Taftoon bread is an Iranian flatbread that is almost always prepared with whole wheat flour, milk, eggs, and yogurt. The dough is similar to pizza dough, resulting in a chewy, stringy texture. Traditionally, the dough is baked on the walls of a tandoor oven for about a minute, and is then removed from the walls with a metal skewer. Nan-e taftoon is often flavored with cardamom or saffron, while some cooks like to sprinkle it with poppy seeds on top. The bread is mostly eaten with kebabs, but it can be consumed with virtually anything on the side, such as cottage cheese, tomatoes, and bell peppers.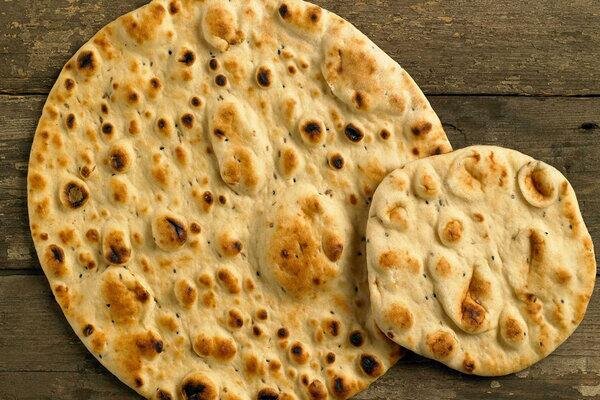 Sangak bread
Sangak bread is a whole wheat leavened flatbread and the national bread of Iran. Its shape can be either triangular or rectangular, and it comes in two main varieties: plain and special, which is topped with poppy and sesame seeds. The name sangak refers to the old method of baking the bread, meaning little stones, because it is traditionally baked in a dome-shaped oven with a surface full of pebbles and stones.
The bread can be prepared in a way that its length is about two feet, which is enough to feed a whole family. In the past, sangak was the main bread of the Persian Army, and each soldier carried a bag filled with pebbles, which were used to cook the bread for the whole army.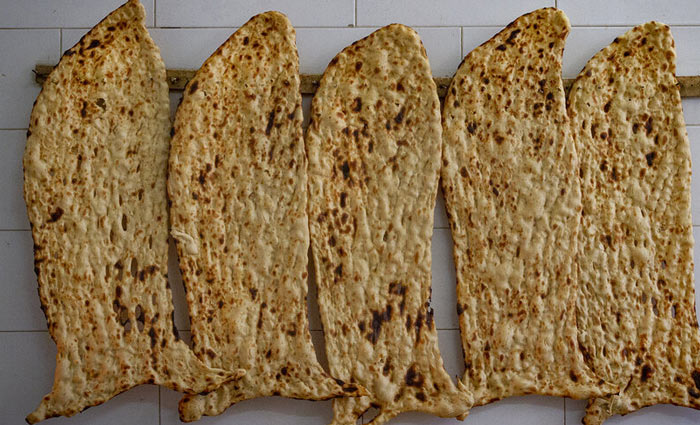 Lavash Bread
Lavash is a soft and flat bread that can be folded easily to make sandwiches and wraps. It's popular in countries such as Armenia, Iran, Azerbaijan and Turkey. Traditionally, lavash is made in tanoor